About
This photo represents who we are.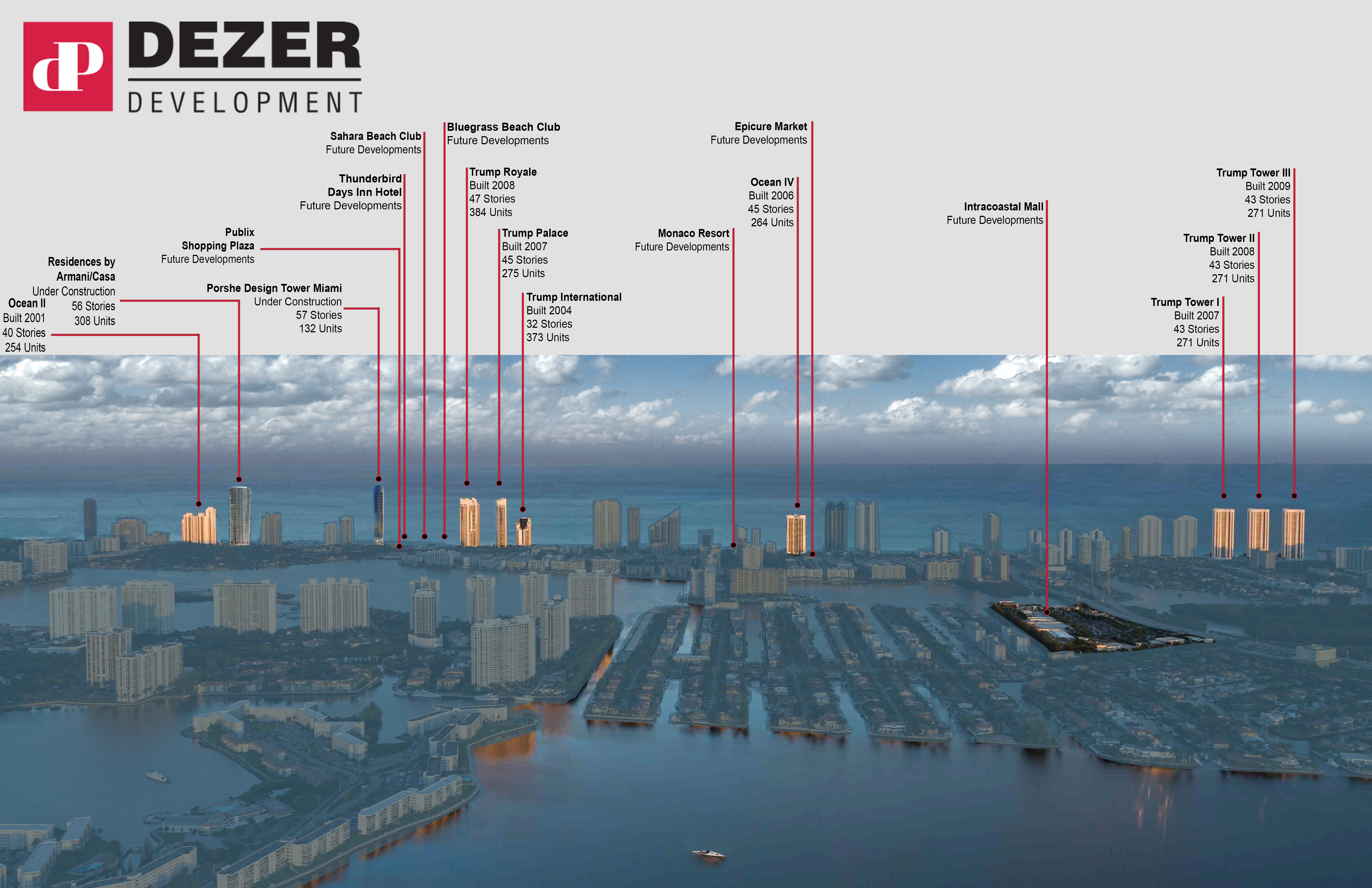 Accomplishments.

Our company SOLD $ 4.5 BILLION of real estate in Sunny Isles Beach alone. An absolute record for the area.
Since 2011, Dezer Platinum Realty LLC is the most trusted real estate brokerage for high end real estate in Sunny Isles Beach. We work in a regular day in 10 different languages with worldwide reach.

Our company.
The group leaded by Michael Dezer and Gil Dezer owns, controls or develops over 27 oceanfront acres, mostly earmarked for redevelopment as mid-and high-rise luxury condominiums, condo-hotels, resorts, and rental communities, giving us a fantastic advantage at the time of defending your property on the market.
Present, past and future.
Dezer Developments, built and developed successfully six Trump Towers, including Porsche Design Tower Miami, Trump Royale, Trump Grande and Trump International.

The group just delivered Residences by Armani/Casa, and Hyde Midtown Suites and Residences.

Into the future, we will develop other 11 new sites, up to the highest industry standards of comfort and living, including Bentley Residences and a high end beach resort at Hillsboro Beach, near Fort Lauderdale.
OWNER MENTALITY. WORLDWIDE PROJECTION.

Fernando Pettineroli, listing agent and team leader, combines his international experience with a permanent work researching market trends, allowing our clients to maximize their results at the time of buying or selling real estate.



My role today is as close to data as is to high end real estate. I paved my own way to become a technology business by nature, where data research and "old school rules" meet. Values are important. And I apply those basics when we sit to negotiate and take care of our client's interests. Time and trust are tied, and I like to preserve that in business.
What led me to also become the VIP liaison for Bentley Residences in 2023.
All the basics I learned at home watching my grandparents and parents deal are applied by me today. It helps to get things done efficiently, now more than ever. A handshake deal is a deal, just sometimes we use charts to learn it.
In my career, I spontaneously become either a motivational engine or sometimes arise some healthy competition too in the structure. I take this as an asset because brings more revenue in the end. Everyone wants to be at the top. I celebrate that.
I take an average of 269 decisions to guide the entire mechanism of the transaction into closing.
I negotiate fluently in English, Spanish, and Portuguese, and a regular week at the office involves being able to react instantly to clients based in 22 different countries around the globe. Being "on-call" for me is normal and my clients can always reach me on Whatsapp or phone in about 3 rings.
I love the idea of being part of something bigger, follow a strategy that lasts. I enjoy as much to be the one that discovers new avenues, solutions, opportunities, as well as following other's better ideas. Survivors are adaptable. I qualify well right there.
My personal satisfaction is to have helped so many people during key moments of their lives. Confidentiality is key in my business. No deal is too small or too large.
Specialties: listing agent, contract negotiation. Lead generation and management, business development, solutions for Luxury distressed properties, Portfolio Management, Bulk REO Packages, international, asset relocation.
Our philosophy is simple: clients come first. We pledge to be in constant communication with our clients, keeping them fully informed throughout the entire buying or selling process. We believe that if you're not left with an amazing experience, we haven't done our job. We don't measure success through achievements or awards, but through the satisfaction of our clients.

To sell your property with us please click here.